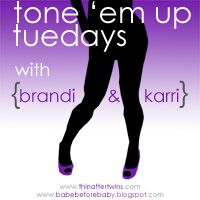 Welcome to our first Tone 'em up Tuesday! Karri and I are hosting this weekly link-up because we want to ROCK the short shorts this summer. Link up with us and share your fitness posts! How are you gettting ready for summer? Do you have a goal outfit you want to wear? Share your stories with us! Copy and paste the code above to add the button to your posts as well.
I'm changing it up today, and I'm very excited about it. Between sick kids, busy schedules, and just plain laziness, I haven't been in the gym in a couple weeks and I'm noticing it in my body. I'm already losing some of the muscle I've worked hard for in the weight room, and I feel like shit. Today, a friend and I are going to the YMCA that's a little closer to me to try a class called Body Combat. We don't go to this Y often because it's a lot farther for my friends, and the weight room is pretty small for me to go on my own. But they have the best classes! I'm thrilled my friend agreed to make the trek to this one with me because I'm way too chicken to go on my own.
I'd been trying to talk Damon into switching to Lifetime Fitness recently because of their classes. This one class, in particular. It made my day to see it on the Y schedule!! Hopefully we love it, and I can talk my friend into doing it regularly with me. I've always wanted to try martial arts classes. I know it would make me feel all badass to do it! Does your gym offer Body Combat? What should I expect? Here's the description:
Body Combat
This Les Mills program is inspired by martial arts and provides an empowering cardiovascular workout. Disciplines such as Karate, boxing, Taekwondo, Tai Chi and Muay Thai are woven through the exciting choreography.
Join us in the link-up! We want to hear your fitness stories. Be sure to link the actual post, not your whole blog, so we can all get inspired. Follow Babe Before Baby and Thin After Twins to partipate!